Meet the Team at your Neighborhood Dentist office!
You may have driven by Inside the Smile many times, and never realized our main entrance is in the rear of the building. Visit us once, and you'll never forget our warm welcome or friendly atmosphere for family dental care. Meet ITS. Fun, family centered general dentistry practice here to serve your whole family's needs, we aim to deliver high quality care in a relaxed environment. One of the few true family dental practices left, we're still serving whole families in the third and fourth generation. Our high-tenure dental professional team is ready to give you a great experience. We have flexible payment options and discounts for those without dental insurance, and we welcome all patients.
About our Dental Clinic
Dr. Smith is only the 3rd owner of this building in over 60 years. Our building has served as a neighborhood medical jewel since 1955, building a reputation for medical excellence, deep expertise, and compassion for our community's population. Dr. Mike arrived with little fanfare about a year ago, and deeply appreciated the warm welcome he received from tenured staff and long-term patients. We honor the many families who have stayed with us through transition, and welcome a whole new generation by delivering the best service we know how.
Meet Our Awesome Dental Staff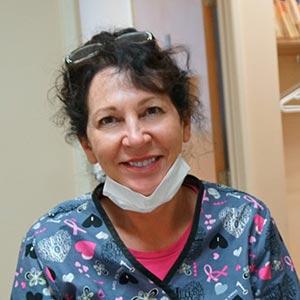 Joanne Venhuizen
Hygienist
In 1992, I decided to return to college, the main idea was to become a nurse. However, life has a way of taking you where you are meant to be and I graduated in 1999 with an Associates of Science Degree from the College of Dental Hygiene at Prairie State College.
I worked for 2 years with a wonderful temporary agency that kept me working 5 days a week, for dentists within a 30 mile radius of my home in Lansing, Illinois. I learned there are many different ways to do things in dentistry, and the kind of practice I wanted. So of course I then found just the right place.
In January of 2001 I was offered a full time position with Dr Thometz in Oak Lawn, Il.. I have stayed here ever since and it has been a wonderful experience in every way. When Dr Michael Smith acquired our practice in the fall of 2016 things got very interesting. He has brought modern tools and ideas that have provided growth and benefits for both employees and patients. Currently my ambition is to add new letters to my list of credentials.
I will be taking classes later this year to start practicing as an Orofacial Myofunctional Therapist. This will allow me to help people live better with less pain, in relation to breathing, swallowing and chewing.
Sherri Rudnicki
Office Manager
Hello, my name is Sherri. I have been a patient at this office for over 20 years. I have worked at this office for 13 years, you might say I've become a "fixture" around here. I am the person you will talk to regarding scheduling your appointments, insurance and billing questions and any other general information regarding your visit with us. I have been married for over 33 years and have an amazing son and daughter. I am looking forward to you becoming part of our practice.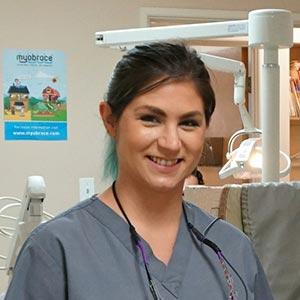 Stephanie Radzik
Hygienist
Having grown up in Antioch, IL Stephanie attended Northern Illinois University where she received her Bachelor of Science degree. She later went on to attend Prairie State College where she completed her studies in Dental Hygiene and has found a passion for getting to know her patients and providing exceptional patient care.
She and her husband make their home in Woodridge, where they enjoy entertaining family and friends (most notably for Halloween and New Years Eve). She also enjoys traveling where her journeys can range from Chicago to Europe.