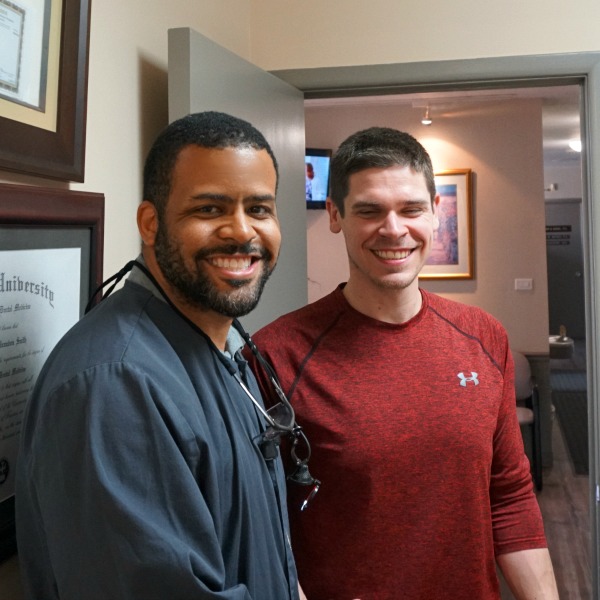 "If we can help you develop habits that support oral health, we improve the health of the family overall." Michael B. Smith, DMD aka Dr. Mike
Dr. Mike didn't grow up wanting to be a dentist, "I always loved biology and science, but took a round-about path to Dental School at Tufts University." During a sporting incident in his youth, Dr. Smith suffered a broken jaw.  The treatment he received, and lasting impression left by his oral surgeon inspired him to pursue dental school.  He  devotes his practice to educating and empowering parents. "We work hard to help identify and manage dental care from the first tooth straight through to adulthood."
"Good oral health begins Inside the Smile," Dr. Mike.
He adds, "Oral health impacts every health concern, along with diet and exercise. It's easy to underestimate the far-reaching impact of poor sleep habits and bad posture." If you're not happy with your smile, Inside the Smile has you covered.  You'll discover a full range of general, and aesthetic dental treatment in a friendly, relaxed environment.  It's why so many patients have remained with us through the transition.
"We maintain a good sense of humor." Dr. Mike
His team puts you at ease with a relaxed, friendly atmosphere, but optimal oral health is always the focus. Dr. Mike's expertise has been tested hundreds of cases. With over a decade of experience in general and family dentistry, he specializes in alignment without braces, dental-related airway problems and sleep disorders.  He showed early talent in science and math, and majored in chemistry at Xavier University of Louisiana. Committed to excellence in dentistry, he earned a Doctorate of Dental Medicine from Tufts University School of Medicine.  Dr. Smith completed his residency in Advanced General Dentistry at Howard University in Washington, DC. "We take extra time to educate patients in oral healthcare at home. We add a sense of humor to make it fun. Our patients learn the early indicators of problems requiring dental attention. Some of the most severe dental conditions often go overlooked for long periods. Most of what we do is designed to prevent more serious dental issues."
Feeling at home at this neighborhood jewel
Born and raised in Atlanta, Dr. Mike has lived across the United States, from Louisiana to Massachusetts, and was voted "Best Doctor in Clarksville, TN.  He's licensed for dentistry in Illinois and Wisconsin, where he lived before he moved to Chicago with his wife and daughter.  He's only the third owner of this neighborhood jewel since 1955, one of the oldest practices in Oak Lawn, IL. Learn more at "About Us." "Dentistry doesn't have to be a pain. Our team is family, and you'll fit right in. Relaxed and flexible, we look forward to welcoming you." Dr. Mike
Make Your Appointment Today
To schedule an appointment or if you or a family member need emergency dental care, please contact our office today.